How many times you have warned by the website performance test tools that your webpage is slow because of the images appear on that page. It is recommended to have an optimized image on a webpage for better image performance. Today I am going to share another great way to serve your images with pCloud.com as a pcloud review.
Nowadays most of the people are looking for cloud storage to store files online and serve them whenever they want. Service like Google drive, One drive, Dropbox are popular but when it comes to privacy, none of them quite measures up to pCloud.
Before going to the configuration part let's know little about pCloud.
What is pCloud?
PCloud is a cloud storage that has been started in 2013. It provides high storage space in low cost with encrypted security to store photos and videos. Every cloud image storage provides free cloud storage trial for their subscribers.
This service provides up to 20GB free space + 1GB for every friend you refer. After a free trial, the user can go for annual and lifetime plans. If someone buys a lifetime plan then they give discounts for using service for a long period.
It lets you set up private, end-to-end encrypted folders where nobody but you will have access to the decryption keys.
For more info please read this notes.
Advantages – pcloud review

Excellent value.
User-friendly.
Serving Speed.
Shared-file security.
Network drive.
Stream media.
Mobile app.
Pay with bitcoin.
Disadvantages – pcloud review

No document editor.
No two-factor authentication.
Before, advancing to our topic let's see some real life pcloud review by real people on Cloudwords product review page.

And…

And one more…

These images are not to convince you that their service is best, but this may help you to figure out what is people's experience with their cloud account.
Now let's move ahead and see how we can connect a WordPress website to pCloud drive. Before establishing the connection make sure you have already registered an account on the P-cloud. If you still have to register to click here to create an account.
Once you complete all the registration process and verification, your dashboard will appear. On the top left, it will display the file manager. There you will see options like Browse, Public, Rewind, Backups, and Trash.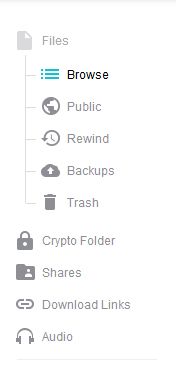 Backup Your Files From Previously Used Cloud Drives.
If you have images in your currently used cloud drives then you can back up your files directly from the Backup dashboard. You can select some of your important images that you are going to use in near future, and backup them accordingly.
But remember that if you are going to back up an image that is already being used in your WordPress website, then you should change the image source link inside WordPress and direct it to the new source link. This is important because neither you want to increase DNS lookup nor the 404 error.
404 file not found error will appear if you delete (or lost) your images from the previous cloud drive without backup them to your active cloud drive.
The supported networks from where you can back up your files are,
Google Drive
Dropbox
Facebook
Instagram
One Drive.
To back up your files click on the START button and complete the authentication process for each network.

Create a public folder.
From the left menu go to public and enable your public folder. Inside the public folder, you can upload files and folders.
Inside the public folder, you can upload a Static HTML website. To do that simply put HTML-formatted text files and linked graphics in the Public Folder (or in a sub-folder) and click on share. After that click on 'Get Link' on the main directory, where your site's resources are. Open the link and there you have it – your very own website, hosted in pCloud!
Again to embed some images in your existing website or a forum, email signature, etc. Click 'Share' for the selected image and then 'Get Link'. An embed code for the image will be shown using which you can display your shared image or shared links.
Upload Your Image.
Now create a sub-folder inside your public folder if you want to serve images for different websites. If not just upload your images in the root folder.

Now upload your image and copy the link to share with WordPress.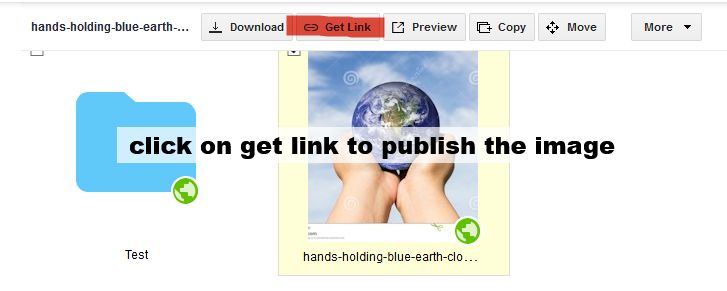 Now copy any link from the popup list according to your need.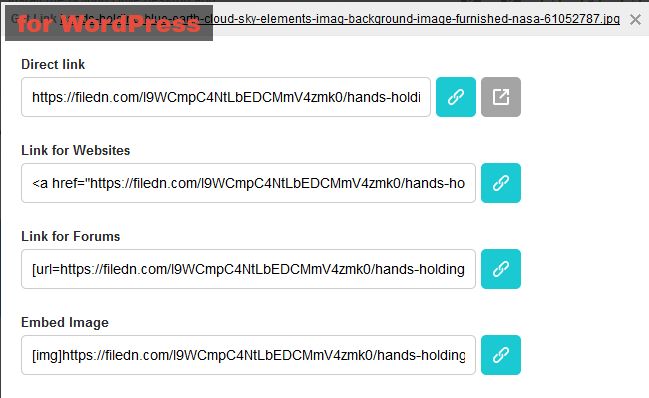 I have tested all four kinds of links in different places of WordPress.
Direct links are mostly useful for POST/PAGE format. To insert the image from cloud copy the Direct Link and go to your post/page editor, select the spot where the image will display and click on add media.
After the image appears under the link fill up the image metadata and click on INSERT. Your image will be displayed on your previously selected position.
If you want to hide your image in the front page instead provide a link to display the image in a new window then you can use the Link for Website.  Just copy the given link for your image and paste it inside your WordPress editor in TEXT mode.
There is one easier way to insert an image with the help of the embedded link. First, install the Embed Image Links plugin and activate it. Copy the embedded link from the pcloud popup. Now paste the copied link into your post or any other place of your website as you wish.
* Delete the (img…/img) tags from the link, because the plugin only fetches the link and embed the image. So the image will appear with (img) tag which is not necessary.
[bctt tweet="@pCloudapp is my second most favorite cloud drive next to @Cloudinary. " username="rupam2234″]
I host all the images for this website from this cloud, because of the simplicity and speed of serving the images. One greater thing I have recently discovered that the total page request made by the visitor's browser is lower when I serve the images from pCloud instead of Cloudinary.
For more info about lower page request read this article.
Some More Useful Features,
You can share files (Any Format from Public Folder)
Easy and Quick download links (For better user experience)
Desktop Application Available
Extended Control Over Content and Links
If you know any more way to do serve image from pCloud for WordPress website please mention them in the comment section below. I will try to respond all of you as soon as I can.