A few weeks ago, I just installed the Autoptimize WordPress caching plugin into one of my WordPress websites to see how much I can score in terms of overall performance. And here I want to write about all the settings and combination that I had performed so far with the plugin.
During the testing period, my aim was to get the fastest page loading along with reducing other common problems on GTmetrix and Pingdom. In this article, I will only explain about the optimal configuration I have achieved after several tests and I believe you will get an amazing site performance with that configuration.
Before we proceed to the configuration, let me introduce the reviews of the plugin from real people, who are currently using it.
These are some example that some people love to use that plugin as they find it works better than other plugins specifically on their website.
But one or two reviews can't prove that Autoptimize will always work well with you. Some people even find it difficult to run/open their site after installing the plugin. For example,
What plugin are you using to minify? Autoptimize tends to work really well for the sites we've built.

— Blake Denman (@blakedenman) March 16, 2018
This is the reason why you should be very careful while setting up the plugin with WordPress. After reading this guide, I hope you can complete the setup easily and able to achieve a faster site speed as well as better performance in many types of network.
So let's get started.
Firstly, I want to mention that during the testing I was using Evolve WordPress Theme.
Install The Autoptimize WordPress Plugin
Either install the plugin from WordPress admin panel > plugins >add new > Autoptimize or download the plugin from WordPress repository and upload to your WordPress.
When the installation is done activate the plugin and proceed to settings > Autoptimize. On the main tab find "Show Advanced Settings" on the top right corner and active it.

Configure HTML Options

*** You can enable and disable the HTML comments and check if it does affect your website or not? If not required you can disable it but I recommend to keep it enabled.***
Configure Javascript Options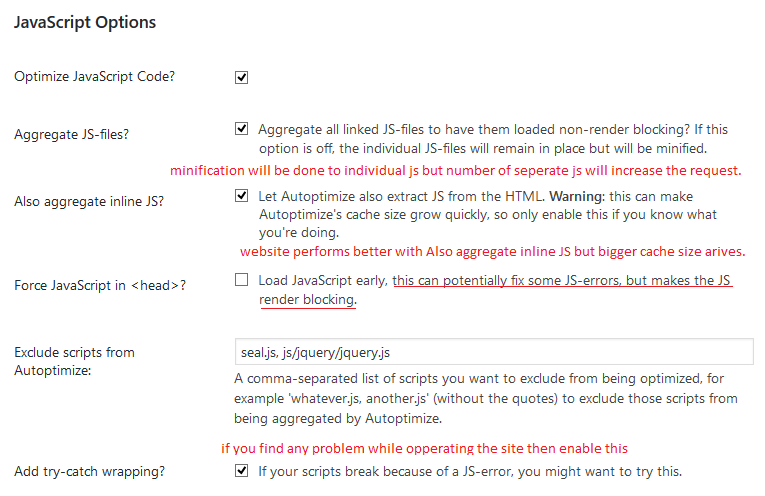 If you detect render blocking on tools like Gtmetrix or Pingdom then enable the Aggregate JS-files.
For faster page loading active the aggregate inline js but practice to clear your cache regularly.
Javascript in the head can lead to a slower loading page due to rendering blocking.
Enabling the catch-wrapping can fix the javascript problem of your website.
Configure CSS Options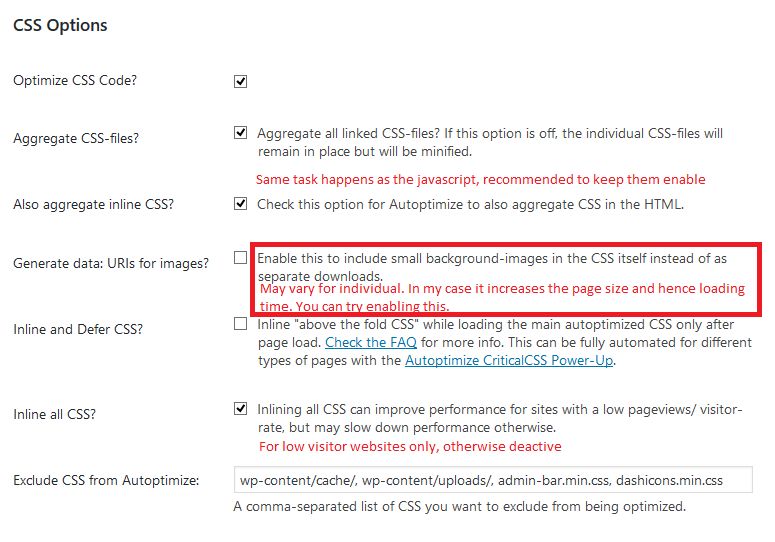 Should you inline all CSS?
Back in the days CSS optimization was easy; put all CSS in your head, aggregating everything in one CSS-file per media-type.
Inlining all CSS has one clear advantage (better PageSpeed score) and one big disadvantage; your base HTML-page gets significantly bigger and if the amount of CSS is big, Pagespeed Insights will complain of "roundtrip times".
Configure CDN Setting

MISC configuration

Extra Settings Configuration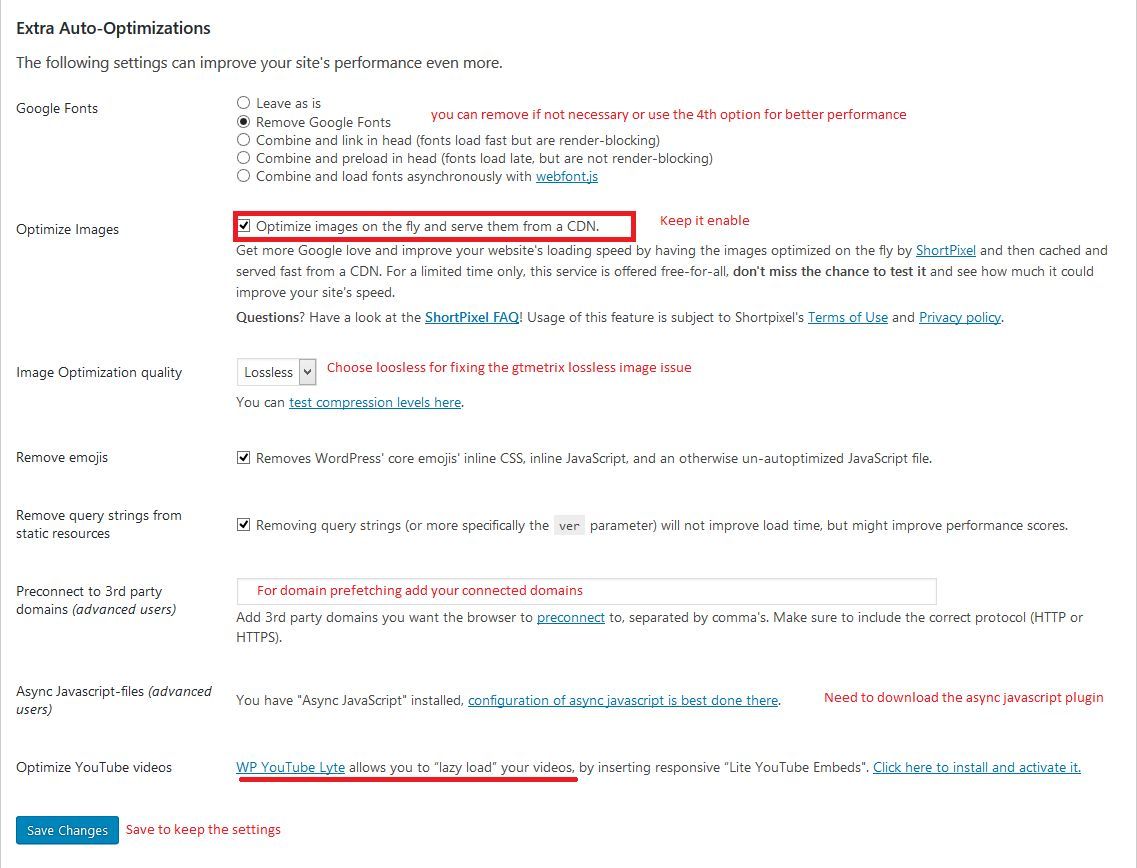 Important: If you notice a huge drop in performance score due to multiple content delivery networks, then disable the ShortPixel Optimize Image.
*** Autoptimize 2.4 beta 3 includes image optimization ***. So keep that enable.
You can also read our previously published guide on: How to reduce server response time
Install Async JavaScript Plugin
When Autoptimize is all set up then install another plugin to extend the java-script control. This plugin is developed by the same producer of Autoptimize so it will totally work with the main plugin.
Go to the WordPress repository and download the plugin and install it. When the installation is done activate it and follow the given configuration.
When done click on save and test your website.
CriticalCSS.com Power-Up
There's one more plugin you can add for more optimized performance. The Autoptimize criticalcss.com Power-up is available in the WordPress plugin repository. This plugin integrates with and extends Autoptimize. It integrates with criticalcss.com, a premium service which uses a "headless" browser to extract real critical CSS.
It charges $2/month to provide the service.
CriticalCSS fully automates the extraction of high-quality critical CSS and the creation of rules for that critical CSS. It can work 100% automated, but also allows semi-automated jobs and manual rules.
When activated it will appear inside the Autoptimize settings and gives you the following features.
So, these are the settings I have found useful for performance improvement as well as better user experience. Try these settings if you are using the Autoptimize WordPress plugin and see the output. Don't forget to share your experience with these settings.